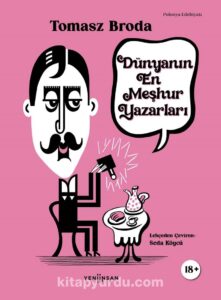 The book Dünyanın En Meşhur Yazarları, as reads the title of the translation of the book, was published by the Yeni İnsan publishing house in Istanbul.
Tomasz Broda' Bookface. The Writers' Face Book is the fulfilment of a fantasy of writers', entirely contemporary dialogue – imagine the greatest names in literature publishing posts: they share their problems, give advice to their fellow professionals, and argue about whose greatness is greater. On Bookface, writers can do anything – expose weaknesses, be obscene, provoke.
With the support of the ©POLAND Translation Programme, Seda Köycü also introduced Turkish readers to Lala by Jacek Dehnel, Popiół i diament  ("Ashes and Diamonds") by Jerzy Andrzejewski, and Pożegnanie z Marią ("This Way for the Gas, Ladies and Gentlemen") by Tadeusz Borowski.