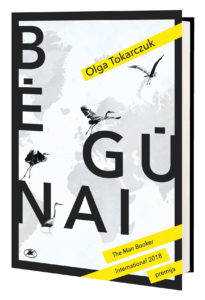 The novel Bėgūnai, as reads the title of the Lithuanian translation, has been recently published by the Lietuvos rašytjų sjungijų leidykla publishing house in Vilinius.
With the support of the ©POLAND Translation Programme, Vyturys Jarutis translated into Lithuanian, among others, Piesek przydrożny ("Road-side Dog") and To ("It") by Czesław Miłosz, Inne rozkosze ("His Current Woman") and Pod Mocnym Aniołem ("The Mighty Angel") by Jerzy Pilch, Madame by Antoni Libera, Widnokrąg ("Horizon") by Wiesław Myśliwski, and two other novels by Olga Tokarczuk: Dom dzienny, dom nocny ("House of Day, House of Night") and Prawiek i inne czasy ("Primeval and Other Times").
It is worth noting that the English translation of Fights by Jennifer Croft, which was also accomplished thanks to co-financing from the Book Institute as part of the ©Poland Translation Programme, has recently made it into the longlist of books nominated for the 12th edition of the American Best Translated Book Award, had previously been awarded the prestigious Booker Prize, and was nominated for the National Book Award. With the support of the ©Poland Translation Programme, there has recently been published a Portuguese edition of the novel translated by Teresa Fernandes Światkiewicz.