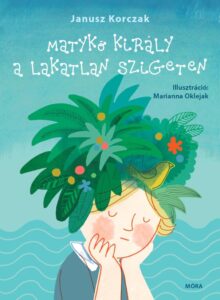 The novel Matykó király a lakatlan szigeten, as reads the title of the Hungarian translation, has been published by Móra, Hungary's leading publisher of children's literature.
Little King Matty and the Desert Island, a novel by Janusz Korczak published in 1923, follows further the story of the little reformer ruler, the protagonist of the novel Król Maciuś Pierwszy ("King Matt the First"), who miraculously escaped death and was exiled to a desert island. It is a story full of surprising adventures that do not always end well. The protagonist, unlike King Matt from the first part of the series, reflects on himself and his place in the world. This does not mean that he remains idle – he escapes from the train taking him to a desert island, appears at a meeting of kings who are horrified by his escape, hides his identity under an assumed name, and finally faces the chance to regain his throne. But the question he keeps asking himself is: Which Matt is real? The Reformer King or the quiet, voluntary exile?
Márta Mócsai-Karaba has also previously translated King Matt the First.