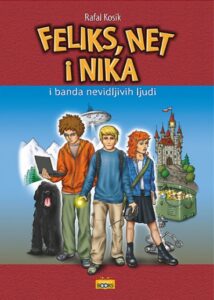 The novel Felix, Net i Nika i banda nevidljivih ljudi, as reads the title of the Serbian edition of the book, has been released by the publishing house ProPolis Books in Belgrade.
Felix, Net and Nika and the Gang of Invisible People is the first volume in Rafał Kosik's bestselling series. This fantastic and hilarious novel about thirteen-year-olds tells the story of friendship, crazy inventions, artificial intelligence, treasures, ghosts, robots, a UFO, as well as teenage feelings. Three middle school students from Warsaw investigate a gang of vanishing thieves.  The story describes everyday school problems and unusual adventures, computers, inventions, ghosts and – perhaps most importantly – the story of a dream friendship.
In recent years, the translator of the book, Andelija Jočić, has also translated, with the support of the ©POLAND Translation Programme, several titles, including Marcin Buczkowski's Bezsenność w Tokio ("Sleepless in Tokyo", Belgrade 2015), Dorota Terakowska's Lustro pana Grymsa ("Mr Gryms' Mirror", Belgrade 2017), Marcin Szczygielski's Czarownica piętro niżej ("The Witch Downstairs", Belgrade 2017), and Rafał Witek's Klub latających ciotek ("The Flying Aunts' Club", Belgrade 2019).