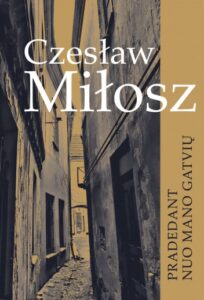 The collection of essays, entitled Pradedant nuo mano gatvių in Lithuanian, was published by Lietuvos rašytojų sąjungos leidykla, the Lithuanian Writers' Union Publishing House.
Beginning with My Streets is a collection of essays, reminiscences, and translations by Czeslaw Milosz, first published in 1985 by the Literary Institute in Paris (the first official national edition of the book did not appear until 1990). The collection consists of works that Miłosz previously published in, among others, the Parisian 'Kultura', 'Twórczość', 'Oficyna Poetów', 'Books Abroad', 'Tri-Quartely', 'Tygodnik Powszechny', 'Roczniki Humanistyczne', and 'Pamiętnik Wileński'. Critics classified Miłosz's collection into the then fashionable genre of the contemporary silva rerum.
The figures that the Polish Nobel laureate evokes in Beginning with My Streets – both by recalling their biographies as well as in a polemical tone – include Witold Gombrowicz, Tomas Venclova, Teodor Bujnicki, Józef Czechowicz, Stanisław Vincenz, and Zygmunt Hertz. Miłosz devoted a great deal of space in the volume to his beloved Vilnius. The book also includes a speech the writer gave in December 1980 at the Royal Swedish Academy in Stockholm on the occasion of his being awarded the Nobel Prize for Literature.
Kazys Uscila's translations have won numerous awards. His translations of Wiesław Myśliwski's novels are particularly renowned.