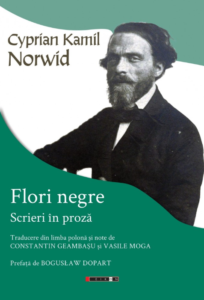 Flori negre, as reads the title of the Romanian edition, was published by Bucharest-based EIKON publishing house.
Black Flowers is a masterpiece of the Polish funeral essay writing, in which Norwid describes meetings and conversations with Stefan Witwicki, Fryderyk Chopin, Juliusz Słowacki, Adam Mickiewicz, and the painter Delaroche.
The translator of the book, Constantin Geambaşu, is a one-man-institution; he has about fifty translations of Polish books to his name, which have been published in the most prestigious Romanian publishing houses. In 2016, the Book Institute awarded Geambaşu with the prestigious Transatlantyk Award, which is granted to the most outstanding translators of Polish literature into foreign languages.