As Dariusz Jaworski, Director of the Book Institute, puts it: 'This is the second year in a row that many international book fairs and literary festivals have been cancelled or limited to alternative forms. 'New Books from Poland' is our attempt at drawing the attention of readers around the world to the excellent work produced by Polish authors, and boosting the confidence of publishers in markets beyond Poland in the high sales potential of our literature.'
The current edition of the 'New Books from Poland' campaign focusses on four titles, translations of which have appeared abroad in recent months. These are Elżbieta Cherezińska's novel Harda [The Widow Queen] translated into English, Jakub Małecki's Rdza [Rust], recently published in German, Wiesław Myśliwski's Widnokrąg [The Horizon], published in French, and Andrzej Sapkowski's Ostatnie życzenie [The Last Wish], the first title in The Witcher Saga, which can now be enjoyed by Hebrew-language readers.

Those interested in the aforementioned titles can find more information about them in a series of four spots posted on YouTube. Each of these short but intensely engaging films introduces the viewer to the featured narrative, outlining its themes. Each spot is recorded in the language of the given translation. Additionally, abridged advertising formats of fifteen seconds each, and a fifty-seven-second version of a spot presenting all the titles together, have also been prepared. The promotional campaign in the four languages of English, French, German, and Hebrew is directed not only at the four key markets mentioned above, but it is also underway in Austria, Belgium, Canada, Switzerland and the UK. The campaign has the potential of reaching an audience of 30 million.
The strategic objective of the 'New Books from Poland' campaign is the promotion of Poland as a cultural area offering attractive, inspiring, diverse, and unique literature of high artistic value and universal appeal, to global audiences.
The Fabryka Komunikacji Społecznej agency has been entrusted with the creation and implementation of the promotional activities associated with the campaign. Filip Cichecki, the firm's director, was invited to collaborate on the production of the spots. The result was a series of informational adverts combining the substance of the titles with a unique sensitivity and attention to detail. You might say that he created four worlds out of four thrilling narratives; worlds that potential readers are invited to explore, by engaging with some new books from Poland.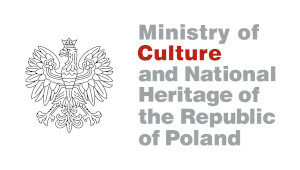 The Book Institute campaign is financed by a designated subsidy from the Ministry of Culture and National Heritage of the Republic of Poland.