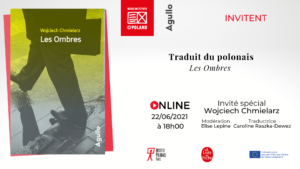 Shadows consolidated the author's unique position on the French market and aroused considerable interest. Readership in France grew strongly during the pandemic, and the most popular books were crime novels. The new publication of a book by a Polish writer is a good opportunity for the Book Institute to organise an online meeting with the author and translator of the book – Caroline Raszka-Dewez. The talk will be hosted by literary journalist Elise Lepine. In addition to Agullo Editions, the publishing house Livre de Poche (specialising in high-volume publications) and the Polish Institute in Paris are also taking part in the project.
The meeting can be viewed today at 6pm on the Agullo Editions fanpage: https://www.facebook.com/AgulloEditions
***
Shadows tell the story of the murder of two women in Milanowek. The daughter and concubine of a notorious gangster were shot dead by Deputy Commissioner Kochan's gun, and he himself disappears. However, he calls Mortka and asks for help – someone is framing him. At the same time, Inspector Sucha tries to unravel the case of hidden camera footage showing several men raping a boy. She has identified high ranking politicians. She knows that if she releases the recording, they will deny everything. In addition, the boy committed suicide. Mortka and Sucha decide to help each other – they do not yet know that their investigations are connected and that they will come face to face with death. The questions multiply. For whom is it convenient for Kochan to be found guilty? Will the friendship between the commissioner and the deputy commissioner stand this test? Who can they trust? Is it possible to escape the past? Or perhaps there is a shadow following behind everyone?
In recent years, with the support of the ©POLAND Translation Programme, French translations of four novels by Wojciech Chmielarz have also been published: Podpalacz ("The Arsonist"), Farma lalek ("Doll's Farm), and Przejęcie ("Takeover") – all published by Agullo Éditions, translated by Erik Veaux, in 2017, 2018, and 2019 respectively, and Shadows (Agullo Éditions, 2021, translated by Caroline Raszka-Dewez).