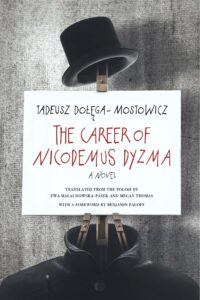 2020 abounded in some remarkable Polish books published in English ranging from classic to contemporary literature, prose and poetry. Both talented new and renowned translators made their way both to the longlist and shortlist. The jury chose to recognize Ewa Małachowska-Pasek oraz Megan Thomas's translation for its excellent rendering for the English-speaking world of the universality of Dolega-Mostowicz's novel about which Dr Stanley Bill of University of Cambridge says "Very few books or characters become proverbial. But The Career of Nicodemus Dyzma is a byword in Polish culture for the accidental rise of an opportunistic swindler to the heights of society and politics. This entertaining novel from interwar Poland remains instructive beyond its context today."
As Madeline G. Levine, one of the jurors of the FiTA 2021 edition says about the winners: "I am impressed by the skill and creativity with which this team of translators [Ewa Małachowska-Pasek oraz Megan Thomas] has managed to produce such vibrant, varied and distinctive English performances of both the narrative voice and the multiple conversational exchanges in The Career of Nicodemus Dyzma. It is also a great service to bring this entertaining, clever, and still relevant novel to an Anglophone readership."
First published in Polish in 1932, The Career of Nicodemus Dyzma was Tadeusz Dolega-Mostowicz's breakout novel. Dyzma is an unemployed clerk who crashes a swanky party, where he makes an offhand crass remark that sets him on a new course. Soon high society—from government ministers to drug-fueled aristocrats—wants a piece of him. As Dyzma's status grows, his vulgarity is interpreted as authenticity and strength. He is unable to comprehend complicated political matters, but his cryptic responses are celebrated as wise introspection. His willingness to do anything to hold on to power—flip-flopping on political positions, inventing xenophobic plots, even having enemies assaulted—only leads to greater success.
EWA MALACHOWSKA-PASEK is Ladislav Matejka Collegiate Lecturer in Polish and Czech Studies at the University of Michigan.
MEGAN THOMAS is, with Ewa Malachowska-Pasek, the translator of Zofia Nalkowska's Romance of Teresa Hennert.
PREVIOUS WINNERS:
2020 – Anna Zaranko for 'The Memoir of an Anti-hero' by Kornel Filipowicz (Penguin Modern Classics, 2019)
2019 – Madeline G. Levine for Collected Stories by Bruno Schulz (Northwestern University Press, 2018)
2018 – Jennifer Croft for Flights by Olga Tokarczuk (Fitzcarraldo Editions (UK) and Riverhead Books (US), 2017)
2017 – Piotr Florczyk for Building the Barricade by Anna Świrszczyńska (Tavern Books, 2016)
2016 – Bill Johnston for Twelve Stations by Tomasz Różycki (Zephyr Press, 2015)
2015 – Ursula Phillips for Choucas by Zofia Nałkowska (Northern Illinois University Press, 2014)
2014 – Philip Boehm for Chasing the King of Hearts by Hanna Krall (Peirene Press, 2013)
2013 – Antonia Lloyd-Jones for the entirety of her translating output in 2012: Paweł Huelle's Cold Sea Stories (Comma Press), Jacek Dehnel's Saturn (Dedalus Press), Zygmunt Miłoszewski's A Grain of Truth (Bitter Lemon Press), Artur Domosławski's Ryszard Kapuściński, A Life (Verso Books), Wojciech Jagielski's The Night Wanderers (Seven Stories & Old Street Publishing), Andrzej Szczeklik's Kore: On Sickness, the Sick and the Search for the Soul of Medicine (Counterpoint Press), Janusz Korczak's Kaytek the Wizard (Urim Publications/Penlight Press)
2012 – Joanna Trzeciak for Sobbing Superpower by Tadeusz Różewicz (W. W. Norton & Company, 2011)
2011 – Clare Cavanagh and Stanisław Barańczak for Here by Wisława Szymborska (Houghton Mifflin Harcourt, 2010)
2010 – Danuta Borchardt for Pornografia by Witold Gombrowicz (Grove Press, 2009)
2009 – Antonia Lloyd-Jones for The Last Supper by Paweł Huelle (Serpent's Tail, 2008)
2008 – Bill Johnston for New Poems by Tadeusz Różewicz (Archipelago Books, 2007)
 About the award:
The award was established in 2008. It is given every year to an author/authors of the best Polish literature translation into English that was published in a book form in the past calendar year. The award is a diploma, a one-month residence in Kraków, Poland with a monthly grant of 2,000 PLN, a flight to and from Kraków and a financial award of 16,000 PLN.
The award is given by the jury consisting of representatives of its organizers: The Polish Book Institute, Polish Cultural Institute London, and Polish Cultural Institute New York.