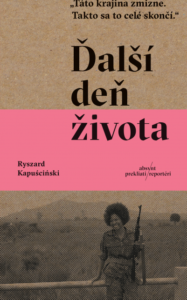 The reportage Ďalší deň života, as reads the Slovak translation of the book, was published by Absynt publishing house in Bratislava.
Another Day of Life is iconic reportage which is a voice against all war. Ryszard Kapuściński called it his first real book.
The Angolan Civil War, just before the country gained independence on November 11, 1975, is described by the reporter through the prism of the individual experiences of his characters and his own. This is a very personal book. Not so much about the war itself as about being lost in chaos, the senselessness of the victims, the uncertainty of tomorrow.
"There were situations where people actually knew they wouldn't survive. And every day, they'd say with relief, 'Oh, another day of my life is behind me, one more is waiting for me. But no more'," writes the author.
When a chaotic and ruthless struggle began, which terrified the whole of Europe, Kapuściński went to a place from where everyone was running away in horror. At some point, he was the only foreign correspondent there. The reporter was aware that it could have been a one-way trip, but he couldn't imagine not taking it.
With the support of the ©Poland Translation Programme, the translator of the book, Patrik Oriešek, has also translated Kapuscinski's masterpiece Cesarz ("The Emperor", Absinthe, Bratislava 2017).